Are you a new to stamping and card making or paper crafting in general? Or do you know someone that is new to the hobby?
Stampin' Up! has a great resource for you or your friend. This brochure pictured above has all you need to get started. Just click on the picture to download the PDF. If you lose it on my website, do not forget that my Tool Box tab has all the reference documents you might want. My Catalogs tab is just for that, PDF of current and past catalogs. Bookmark it!
So what are some items that you might need to get your creative craft started?
Scissors - SNIPSItem 103579 $10.00
Adhesive - Multipurpose Glue (I often refer to it as Green Glue) item 110755 $4.00
Clear Stamp Block - Clear Block H item 118490 $8.50
Ink - Memento Ink Pad in Black item 132708 $6.00
Paper and Envelopes - Notecards and coordinating envelopes item 149610 $8.00
Stamp Cleaner - Simple Shammy item 147042 $8.00
To get started, I recommend starting with one of our all-inclusive kits, such as the Looking Up Card Kit listed in the brochure. Item 149651 $27.00. Kit includes a stamp set, a mini ink pad that we call Stampin' Spots, a clear block, supplies to make 15 cards, includes 15 coordinating envelopes.
All-Inclusive Kits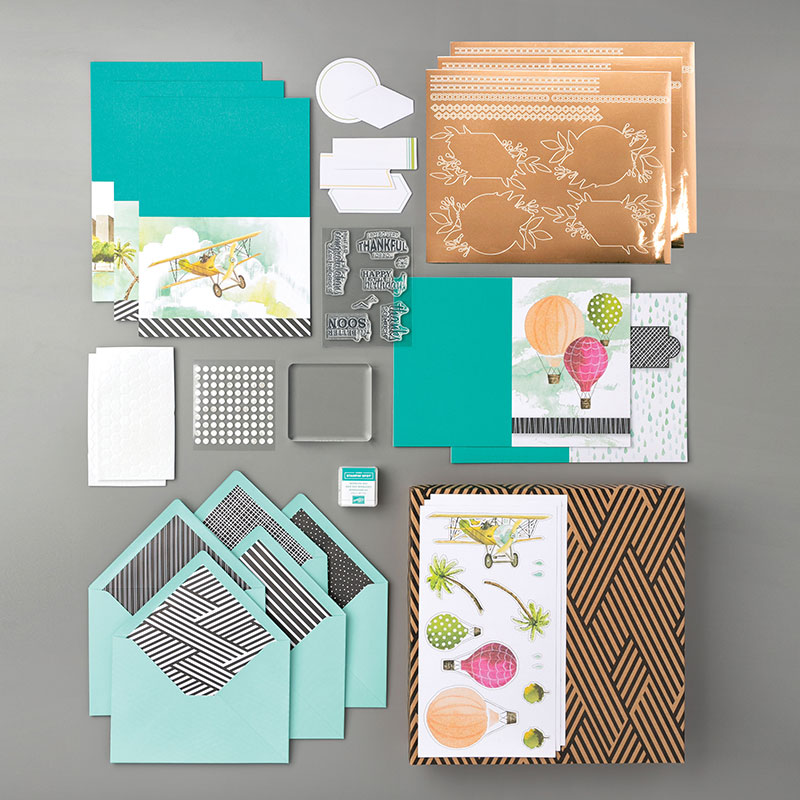 Looking Up Card Kit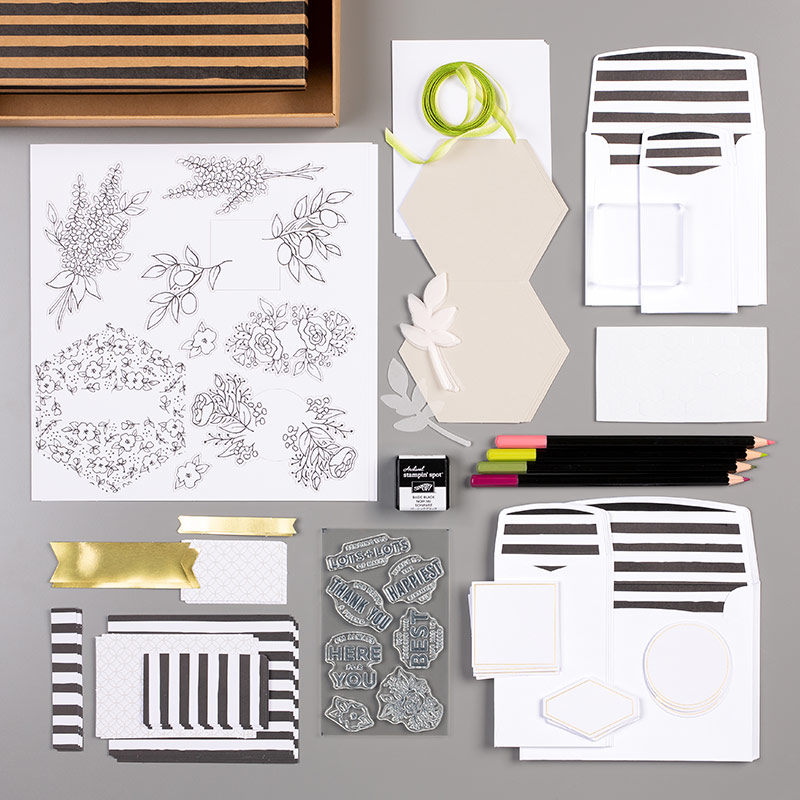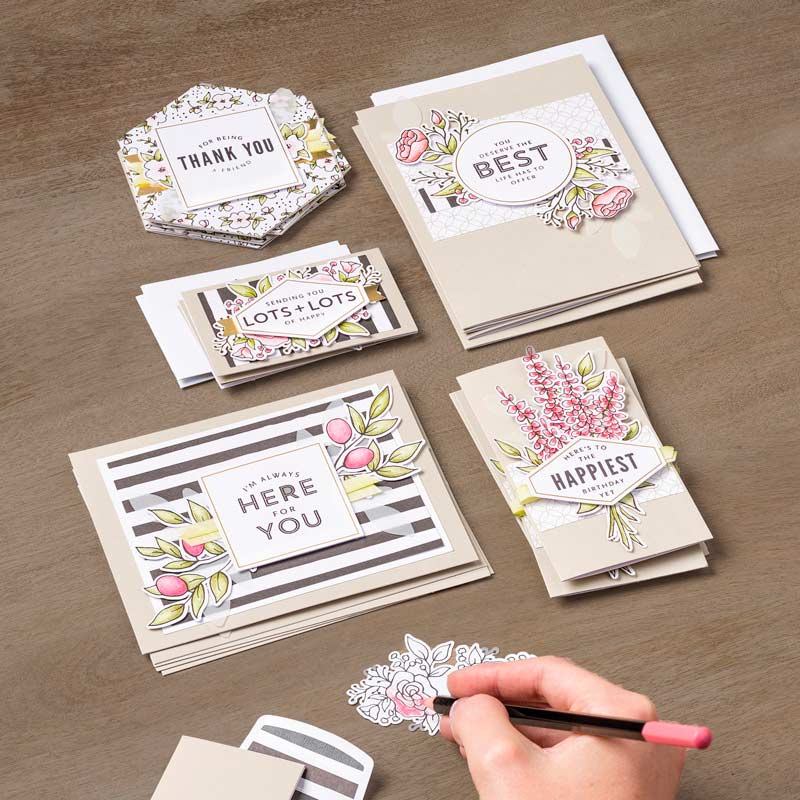 Lots of Happy Card kit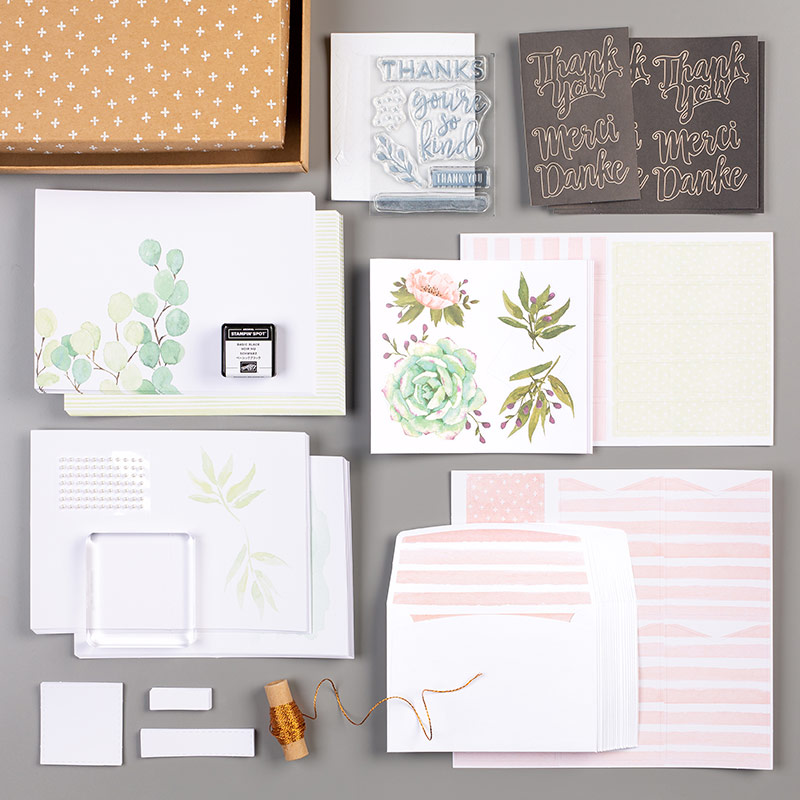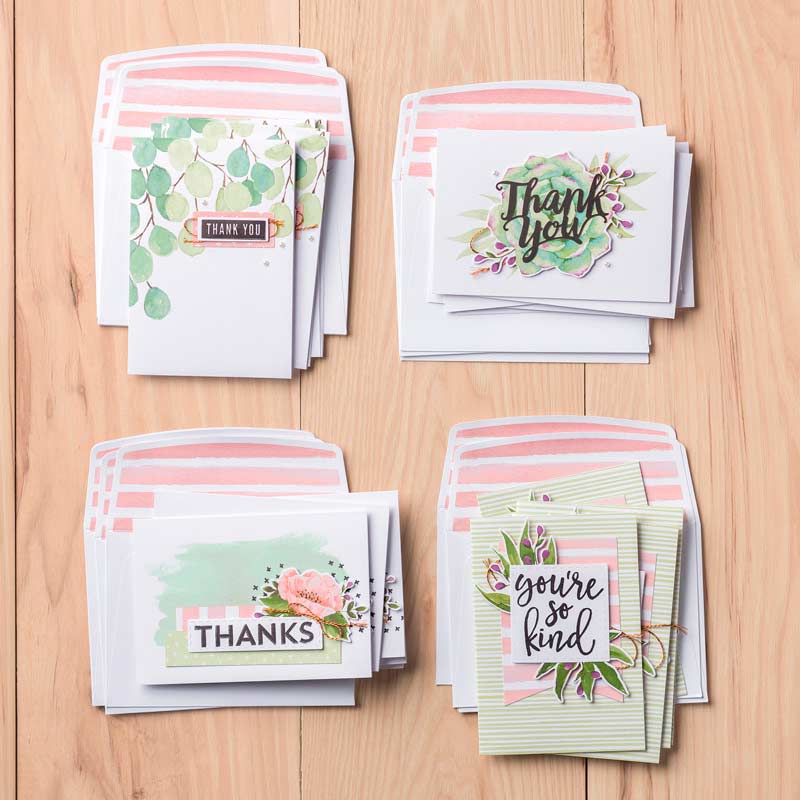 Notes of Kindness
Ready to spread your wings a bit? Try the Tags & More add on kit. Item 149652 $9.00 to make 10 tags and accessories. You can use the block and ink from the Looking Up Card Kit or add on the Delightful Day Stamp set. Item 149466 $15.00 and the Pretty Peacock full sized ink pad. Item 150083 $7.50. Toss in some other accessories if you want. And boom. You have now made cards and tags. Buy all the supplies with one easy item number. Item 152864 $48.50. (stamp set, Delightful Day, Clear Block C, Pretty Peacock full sized ink pad, Mini Pizza Boxes in white, Tags & More accessory kit, Stampin' Dimensionals - must for any crafter)
Here is another way to quickly and easily make handmade cards or other paper crafting projects - use the Magnolia Lane Cards product suite. Item 152868 $45.50.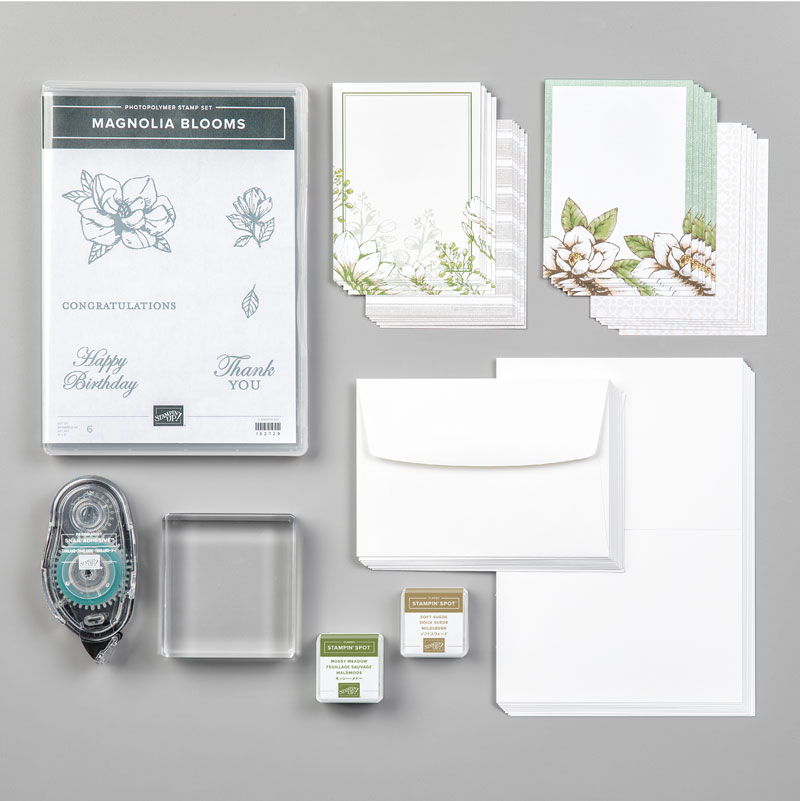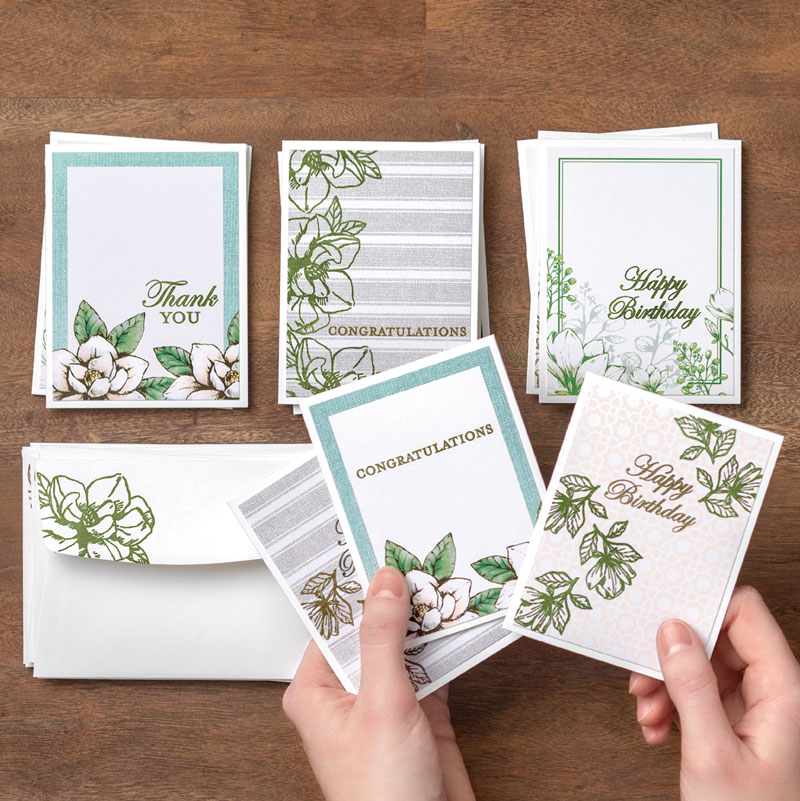 Magnolia Lane Cards from brochure
The product suite, as I like to call them, includes the Magnolia Blooms stamp set, Clear Block D, 2 Stampin' Spots, Magnolia Lane cards and more, and some SNAIL adhesive (refillable). Of course you can order each item separately, as you can do also with the Tags and More Product Suite Kit.
The Magnolia Lane Cards Suite coordinates with a full product suite in the Annual Catalog, starting on page 36-39 in the 2019-20 Annual Catalog. Or
HERE for the online resources
.
The brochure does a far better job than I can do, walking you through expanding your supplies and skills by adding on stamp sets where you get to design your own projects by adding in just a few new supplies. Then you can step up to coloring in your images and punching out images. By now I bet you are really feeling creative and successful.
Note: The items in the brochure are available for online purchase, but are not directly listed on the website. Just type in the item number in the search field of the online store.
Another simple and easy way to start creating is to subscribe to Paper Pumpkin! Stampin' Up!s monthly box subscription service. Creativity delivered right to your door. Each month you receive a stamp set, an ink spot (remember what those are? see above), adhesive, and all the supplies pre-cut and scored to make the months kit. Kits vary from cards and envelopes, to tags, to gift packaging, home decor, and more. $22.00 each month, or prepaid subscriptions in 1, 3, 6, 12 months save even more.
Learn more here
.
Feeling brave? Trying searching for the hashtag #simplestamping in social media (Facebook, Instagram, Twitter, Pinterest) to search for ideas for you to explore. You got this!
SHOP NOW!
If you have any questions, please
email me
. I am here to help.
Thanks, keep being creative.